Welcome to the Ron Esplin Team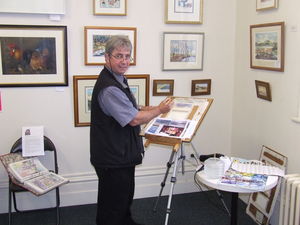 RON ESPLIN - CEO
"Commercial background"
For 25 yearsRon applied his artistic and design ability to marketing his own electronics firm and later as a marketing consultant and Marketing Manager.
During his time in business Ron attended Otago University part time to graduate in 1992 with Bachelor of Commerce degree in Marketing Management.
Head Office in Central Dunedin
Ron now has an office in central Dunedin at Burns House, 10 George Street, on the 6th Floor. Telephone 64 3 477 2820
"Do it now"
Ron believes that the customer is king, and he follows a philosophy of "underpromise and overdeliver"
This is great for the customers who want commissions.
"On time and on spec"
A good example was an Australian resident who rang one of the Galleries in Dunedin asking for a painting of Puketapu, the hill that overlooks Palmerston, as she had lived there in her childhood.
The Gallery knew they could ask Ron to do this within a week, and not only did he photograph the location, sketch it out, and complete the painting, but he completed it in three days so that there was time to frame it and deliver it "on time, and on spec".
RON ESPLIN - MARKETING MANAGER
Original Art
Ron has for sale paintings of hundreds of subjects, ranging from landscapes and townscapes to abstract pieces and his unique tactile art. Send an email to ask about any subject you are seeking.
Commissions
If Ron does not have a painting of the subject that you want, you need only ask for a painting of a subject and Ron will paint it for you. This is always done in consultation with you, and within a reasonable time frame.
Limited Edition prints size A3
Ron produces Limited Edition size A3 signed prints of his work, limited to 200 and signed personally.
Prints size A4
A4 prints of Ron's work can be purchased and posted to you. Every print is personally signed by the artist.
Greetings Cards
Selected images of Ron's work are available as tasteful greetings cards that can be used for any occasion.
Postcards
The image available as greetings cards are also available as postcards.
RON ESPLIN - ARTIST
"A lifetime exposure to art."
Ron has had a lifetime exposure to art as both his late father Tom was an artist, and his brother Clark is a practicing artist.
They would jointly refer to their involvement in art activities as "The family Firm."
Ron was drawing as soon as he could hold a pencil, and was soon in demand at school to do posters and stage sets for school productions. He applied his artistic and design ability to marketing his own electronics firm and later as a marketing consultant and Marketing Manager.
Ron continued to paint recreationally, attending evening classes at Otago Polytechnic Art School prior to embarking in 1995 on a serious effort to develop his painting.
Studio in Central Dunedin
Ron now has a studio in central Dunedin where he paints in acrylics and oils, and he has also continued to develop his watercolour painting.
Ron is an Artist member and former Council member of The Otago Art Society, and he served as a member of the Council of the Dunedin Public Art Gallery Society.
Ron exhibits regularly in Dunedin, has exhibited in Otaru, Dunedin's sister city in Japan, and is also represented in the Dunedin City Council art collection and the prestigious Forrester Gallery in Oamaru.
"Draw a line a day"
Ron follows his father's advice to "draw a line a day". He also practiced his minimalist technique as a regular contributing cartoonist to The Otago Daily Times, portraying the cartoon character "Albert Ross," the albatross with comments on local and National issues and events.
Visit Ron's website at www.esplinart.com