RON ESPLIN - ARTIST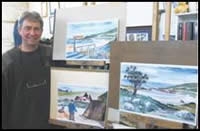 "A lifetime exposure to art."
Ron has had a lifetime exposure to art as both his late father Tom was an artist, and his brother Clark is a practicing artist.
They would jointly refer to their involvement in art activities as "The family Firm."
Ron was drawing as soon as he could hold a pencil, and was soon in demand at school to do posters and stage sets for school productions. He applied his artistic and design ability to marketing his own electronics firm and later as a marketing consultant and Marketing Manager.
Ron continued to paint recreationally, attending evening classes at Otago Polytechnic Art School prior to embarking in 1995 on a serious effort to develop his painting.
Studio in Central Dunedin
Ron now has a studio in central Dunedin where he paints in acrylics and oils, and he has also continued to develop his watercolour painting.
Ron is an Artist member and former Council member of The Otago Art Society, and he served as a member of the Council of the Dunedin Public Art Gallery Society.
Ron exhibits regularly in Dunedin, has exhibited in Otaru, Dunedin's sister city in Japan, and is also represented in the Dunedin City Council art collection and the prestigious Forrester Gallery in Oamaru.
"Draw a line a day"
Ron follows his father's advice to "draw a line a day". He also practiced his minimalist technique as a regular contributing cartoonist to The Otago Daily Times, portraying the cartoon character "Albert Ross," the albatross with comments on local and National issues and events.
Visit Ron's website at www.esplinart.com