Ron Esplin - Artist, Dunedin New Zealand
A Lifetime Exposure to Art
Ron Esplin has had a lifetime exposure to art as both his late father Tom, and his brother Clark were painters, jointly referring to their involvement in art activities as "The family Firm."
As soon as he could hold a pencil, Ron was drawing , and he was soon in demand at school doing posters and stage sets for school productions. He continued to paint recreationally, attending evening classes at Otago Polytechnic Art School before embarking in 1995 on a serious effort to develop his painting.
Watercolour Painting
Ron has a studio in central Dunedin where he paints in acrylics and oils, and of course he has continued to develop his watercolour painting.
An Artist Member and Council member of The Otago Art Society, Ron has also served on the Council of the Dunedin Public Art Gallery Society.
He exhibits regularly in Dunedin, and has also had work exhibited in Otaru in Japan. Ron is also represented in the Dunedin City Council art collection and in the prestigious Forrester Gallery in Oamaru.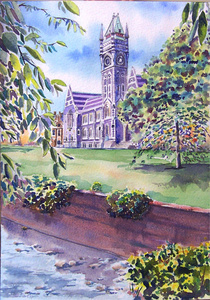 Otago University and the Leith is a framed watercolour painting measuring 480mm x 375mm …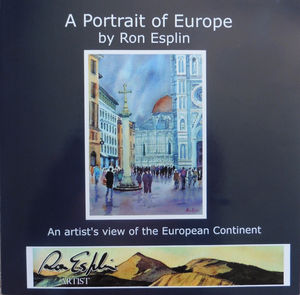 Ron Esplin's new book "A Portrait of Europe" is subtitled an artist's view of …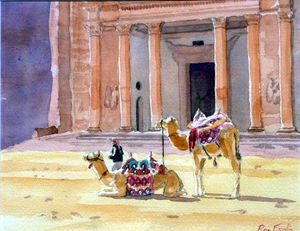 "The Treasury Petra" is the building hewn from the rock that you see as …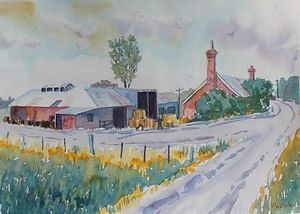 Kaitangata is about an hour South of Dunedin at the mouth of the Clutha …