Ron Esplin exhibits at Delicacy in Maori Hill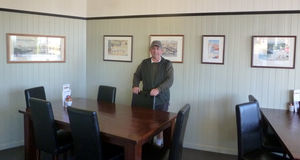 Thirteen Watercolours on Display at Delicacy:
Thanks to Alison Lambert of Delicacy in Maori Hill Ron now occupies one of the main rooms in the cafe with a display of thirteen of his more recent watercolours.
Images from Around the World:
Paintings represented include images of England and Scotland, Italy, Croatia, China, Turkey and other locations where Ron has travelled in recent times.
It is important to note that Ron feels he needs to make a direct connection to these locations in order to reproduce the feeling, as much as to reproduce the visual impression of the scenes he commits to watercolour on paper.
To that end he has used as his reference the many photographs he has personally taken at these locations around the World. If he has painted a scene, he has actually been there and experienced the atmosphere.
Populating his Paintings:
Lately Ron has more and more been populating his paintings with crowds of tourists and locals who are also visiting these iconic locations. look at "The Great Wall China" for instance and the painting is crowded with the usual hundreds of daily visitors. Similarly in "Hagia Sophia Istanbul" the long shadows cast by the visiting crowd become an important part of the composition. Another painting depicting the interior of Hagia Sophia uses the crowd of visitors to exemplify the dramatic lighting that exists there.
In contrast the painting of "Findochty" highlights the remoteness of the quiet Scottish fishing village where a solitary person is to be seen on the beach.
Put Yourself in the Picture:
Why not put yourself in the picture, visit Delicacy at 595 Highgate in Maori Hill, enjoy a coffee and some of their superb cuisine, and spend time absorbing Ron's watercolour representations of scenes from around the world where you may well have been yourself, or are planning to visit yourself in the future.
All the work is for sale, and is priced in the bottom left hand corner of the paintings along with the title of each painting.
View this Newsletter and the accompanying photograph on the following link:
Ron Esplin exhibits at Delicacy in Maori Hill