Ron Esplin publishes a new book "A Portrait of Southland"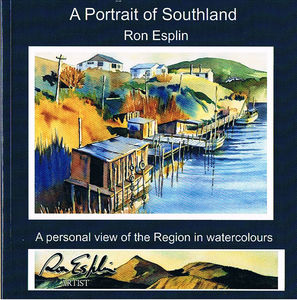 Southland portrayed in watercolour:
After the success of Ron's book "A Portrait of Otago", Ron always had in the back of his mind to complete paintings of Southland and to publish a book showcasing this unique Region.
Southland as the name suggests is New Zealand's most Southern Region, it is sparsely populated for much of its area, and is famed for native bird sanctuaries and an untouched natural environment. A quarter of Southland's land area is protected as part of Fiordland and Rakiura National Parks.
Beautiful Lakes and Mountains:
As an artist there are urban areas as well as wild mountainous areas to attract the artist's eye. Beautiful lakes such as Lake Manapouri, Lake Te Anau, and the deepest lake in the country, Lake Hauroko. The Main towns include Gore, Mataura and Invercargill and there are also beautiful coastal towns and villages like Riverton, and the charming Cosy Nook on the Southern Scenic Route, and the pretty seaside town of Oban on Stewart Island.
Personally experienced the rugged nature of Southland:
I have worked and painted in all these places, and experienced the rugged nature of the Southland mountains, among other experiences observing the distant view of Stewart Island from Dolamore Park near Gore in the shadow of the oddly shaped Hokonui Range, and even running the 60 kilometre Kepler Challenge over Mt Luxmore from Lake Te Anau, along the tops overlooking the South Fiord to the Iris Burn, then down to Lake Manapouri and back alongside the Waiau River to Te Anau, not once, but five times!
I have encapsulated in this twenty page soft cover book my impressions of Southland and distilled those impressions into thirty four paintings with brief editorial to explain each image.
Order from the website and get FREE Postage and Packing:
The book measures 200mm x 200mm, is a talking point on the coffee table, and hopefully stirs memories of your own Southland experiences or inspires you to extend them.
If you order the book from the website I will send it to you for the introductory price of $28 and include FREE Postage and Packing throughout New Zealand.
Follow the Link to see the image of the book cover "A Portrait of Southland":
Ron Esplin publishes a new boo ... book "A Portrait of Southland"