Watercolour Art Classes for 2014 begin again for the year with Ron Esplin: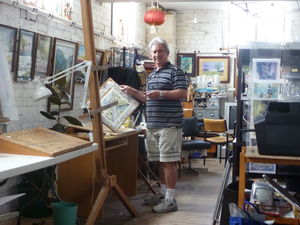 Watercolour Art Classes Begin Again for 2014 Monday 20 January:
I am still running classes in my "downtown" studio at 10H Jetty Street and we begin for the year again on Monday 20 January. It is a spacious area, and a relaxed atmosphere working alongside like-minded people of all ages enjoying their art.
Create and improve your watercolours:
Learn how to create, and improve by creating beautiful watercolours every Monday from 7PM to 9PM excluding long weekends and the Xmas holidays. The atmosphere is one of excitement every Monday night for the two hours of the class. The usual format is to paint for an hour and a half, then to watch an inspiring DVD for the last half hour.
What does it cost?:
I will give you tips to improve your watercolour technique, understand composition, and use the right materials for the best results. Your confidence will increase, and your enjoyment of creating competent work will increase with it. You can start as a beginner or improve your skills as a practicing artist.
It is $15 a night so you only pay on the nights you attend.
Where do I start?:
Come along to 10H Jetty Street on a Monday when the doors are opened at 7PM. Bring any work you have at hand, the materials you use at present, or just bring yourself and I can advise you on materials to purchase if you are just beginning.
Otherwise:
Call me at home on 03 467 2164 or my mobile at 021 358 082.
Or email me at ronesplinartist@gmail.com
See this Newsletter and accompanying photograph of the studio by clicking on this link:
Watercolour Art Classes for 20 ... for the year with Ron Esplin: