Speargrass Inn exhibits "In the Steps of my Father"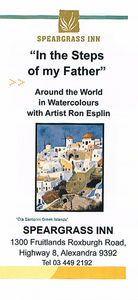 "In the Steps of my Father" is an exhibition that reflects the World travels of a father and his son:
My late father, Tom Esplin, was a very successful painter in oils, and he painted subjects gleaned from his extensive travels around the World.
Apart from my sister Dot who was born in Dunedin, all of our family was born in Scotland, and we came to New Zealand to settle in 1954.
World travels documented in the "Esplin" book:
My father and mother travelled extensively Worldwide, Dad took many photographs wherever they went in order to use them as painting subjects when he returned home. My mother wrote detailed diary notes, and the combination of paintings and writings formed the basis of the book "Esplin" that my brother Clark and I published in 2007 and that has now sold over 3,000 copies.
The travel bug was contagious:
I inherited the travel bug from my nomadic parents, and have visited many of the countries and destinations that they did during their sixty years of marriage.
After returning home, I also painted the landmarks and landscapes I had seen and photographed, in the same way as my Dad. I mounted an exhibition with the title, "In The Steps Of My Father" featuring my paintings of the places and countries both my parents and I have visited over the years.
Speargrass Inn hosts "In The Steps Of My Father" exhibition:
In partnership with the management of Speargrass Inn Gallery, "In the Steps of my Father" comes to Central Otago as an exhibition opening at 6PM on Friday 20 September 2013 at the beautiful gallery in Fruitlands on Highway 8, Alexandra, and running to Friday 22 November.
About the book that accompanies the exhibition:
"In the Steps of my Father" is also in book form and features many more of the paintings of the places I have travelled to throughout the world, and I have included text that outlines the stories around many of the works.
The book will be available for purchase at $50 for the duration of the exhibition. It has a hard cover, and features 75 paintings and drawings of locations in 17 countries over 20 pages.
Click on the link to access the website page for illustrations.
"In the Steps of my Father"
Speargrass Inn exhibits "In the Steps of my Father"