Ron Esplin welcomes new gallery "Twin Oaks Gallery and Gardens"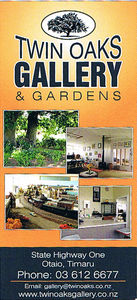 New Gallery "Twin Oaks Gallery and Gardens" now open:
"Twin Oaks Gallery and Gardens" is now open on State Highway One, Otaio, Timaru and occupies the former Otaio Schoolhouse and I am delighted to be one of their inaugural exhibitors.
Debra and John Cudworth have combined a unique variety of attractions to encourage you to break your journey South or North on State Highway One 24 kms South of Timaru between St Andrews and Makikihi.
A range of activities is available for all ages:
Besides displaying art work for you to purchase, jewellery and giftware are also available for sale.
If you are travelling with the family, John makes a mean Barista coffee so you can take a welcome coffee break, while if you have kids, they can play tennis on the tennis court and expend a bit of energy after being confined to the car during your journey.
Amazing HO Model Railway layout:
Young and old "kids" can see the amazing HO Model Railway layout that John has built. Realistic synchronised sound effects and hills and tunnels bring this amazing layout to life, and Dad's, Mum's and kids can even have a go at driving the locomotives themselves.
Plants including perennials, peonies, day lilies, and heuchera are also on offer to the visitor.
Art work by a number of artists including Ron Esplin, Sarah Deans, and Deb Cudworth herself who runs art classes at the Gallery for local art enthusiasts.
Contact details:
For more details contact Debra or John Cudworth at Twin Oaks Gallery ph. 03 612 6677. Email gallery@twinoaks.co.nz or visit their website at www.twinoaksgallery.co.nz.
See information and pictures on my website at www.esplinart.com by clicking the following link.
Ron Esplin welcomes new galler ... Twin Oaks Gallery and Gardens"