Ron's book "A Portrait Of Otago" is now available!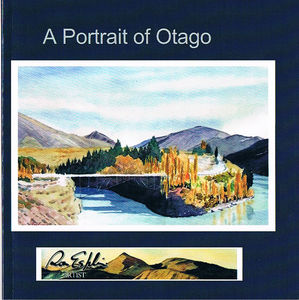 A long held ambition to publish a book of Otago Paintings:
For a number of years, as I have been painting a wide range of locations around Otago, I have thought about putting them into book form.
I have painted over 800 paintings, and it was a really difficult job to make a selection that seemed to represent the region in the best way.
The computer made the task achievable:
The computer played an important role as I keep a digital record of every painting I have done, so I created a folder named "A Portrait of Otago". and loaded in the most relevant images.
The task then was to retain the best of them, ensuring that I represented the whole of Otago.
In the book that has resulted, I have divided it into four sections, Central Otago, Dunedin City, Otago Harbour, and North Otago.
Twenty pages in a soft cover in full colour:
"A Portrait of Otago", subtitled "A Personal View of the Region", is a soft cover book, ideal for postage, and measures 20cm x 20cm, (8 inches by 8 inches if you prefer).
There are twenty pages in full colour and a there is a biography on the back cover. I have refined the publication from my first edition, and this new edition is the 2013 publication. It is now available from the Art Station Shop in the Railway Station, directly from me through esplin.art@xtra.co.nz, or through the website at www.esplinart.com.
See the picture of the book on the News item in the website using the following link,
Ron's book "A Portrait Of Otago" is now available!
The price is $28. p&p $5.
Our Online Store