Ron Esplin Painting contributes to Otago Hospice Charity Auction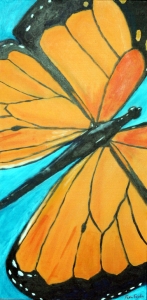 Cocktails at The Temple Gallery Hospice Charity Auction:
The stunning Temple Gallery was the venue on 18 May for drinks and nibbles and an Auction to raise funds for The Otago Community Hospice.
Lyn Chapman, the Hospice fundraiser, and Anne McKenzie and Rachel Bird asked a number of artists including Ron Esplin to donate a painting around "Butterflies" as the theme.
Ron Esplin Painting completed in tight time frame:
The timing for Ron was problematic, as he went in to Hospital for a hip replacement the week before. The operation has been a success, however Ron went home on Tuesday 15 May, with the deadline on Wednesday 16 May the task was to complete the work in twenty four hours..
Undaunted Ron began his painting as soon as he arrived home, and completed it the following day in time for the Auction. He chose a close up view of a Red Admiral Butterfly because of the spectacular markings and the warm colours of these insects.
Mission accomplished despite Hip operation:
"Thank God for an occupation that can be applied when immobilised" Ron says.
The finished butterfly painting is 260mm x 130mm and features the creature in predominantly orange and red against a sky blue background.
Successful Fundraiser:
The end result of the successful evening was raising over $20,000 for the Otago Hospice, satisfying for all concerned.
You can view this item and the painting by following the link below.
Ron Esplin Painting contribute ... Otago Hospice Charity Auction