RON ESPLIN - CEO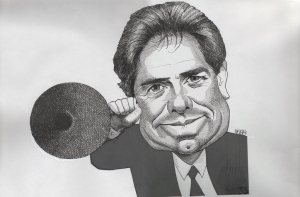 "Commercial background"
For 25 yearsRon applied his artistic and design ability to marketing his own electronics firm and later as a marketing consultant and Marketing Manager.
During his time in business Ron attended Otago University part time to graduate in 1992 with a Bachelor of Commerce degree in Marketing Management.
Studio in Central Dunedin
Ron now has a private studio in central Dunedin at 10H Jetty Street, on the 2nd Floor. Private viewings of his working studio can be arranged if you phone Ron at home on 03 467 2164 or Mobile 021 358 082
"Do it now"
Ron believes that the customer is king, and he follows a philosophy of "underpromise and overdeliver"
This is great for the customers who want commissions.
"On time and on spec"
A good example was an Australian resident who rang one of the Galleries in Dunedin asking for a painting of Puketapu, the hill that overlooks Palmerston, as she had lived there in her childhood.
The Gallery knew they could ask Ron to do this within a week, and not only did he photograph the location, sketch it out, and complete the painting, but he completed it in three days so that there was time to frame it and deliver it "on time, and on spec".