"BE AMAZING" Ron Esplin tactile art work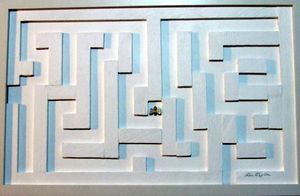 New Tactile Artwork:
Fun with words and multi media, the latest tactile art work is "BE AMAZING". Have a look at this work under the "Braille Art" section of my site and find your way from the entrance of the maze on the left hand side of the work to the exit on the bottom right. On the way you might encounter the bee. Do both and you too can "BE AMAZING". Framed size 600mm x 380mm. Price NZ 1,600.