A sneak preview for you VIP's of Ron Esplin's new Series of watercolours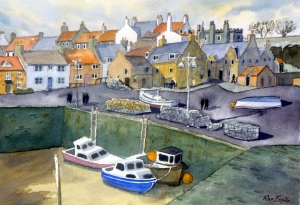 Don't you love the smell of the sea?
Edinburgh is my birthplace, but before coming to New Zealand my father Tom was Art teacher at Buckie High School on the Moray Firth in the North of Scotland. The smell of the North Sea left an impression on me, and I have always loved the sea and living close to it.
When we first came to New Zealand it was for a year, followed by another year in Scotland before returning for good as a family to settle here in Dunedin.
Two and a half times round the World in ships:
As a result I travelled one and a half times round the World by ship, then in 1969 I repeated the exercise returning to the UK for a two year OE, again circumnavigating the Globe.
With salt water running through my veins, it was a fantastic experience to return to Scotland in 2008 and revisit the many fishing villages along the East Coast of Scotland. I took as many photographs as I could, and had the satisfaction of often standing on the spot where one or other or both parents had sat to paint these very same scenes.
New series of Scottish Fishing Villages painted with love:
I know I am known for painting local scenes here, but I have started a series of paintings of Scottish fishing villages that you can now enjoy a sneak preview of.
Why don't you see if you can use Google to locate the first three, Findochty, Crail, and Portsoy.
I hope you like my renderings of them, they have been painted with love.