SADDLE HILL IN SPOTLIGHT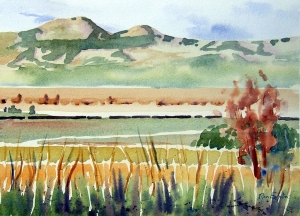 Saddle Hill exhibition at Mosgiel Library:
Saddle Hill is the focus of an exhibition in Mosgiel in the last week of February on show at the Downes Room in The Mosgiel Library. Ron Esplin joins more than forty artists to pay tribute to the Saddle Hill landscape in the exhibition which is open from 1PM February 22, 23, and 24, and from 10AM to 11AM on Saturday 25 February.
Well known artists represented:
As well as Ron Esplin are other other well known artists including Heather Maxwell, Scott Drummond, Marie Bowden and Fay Mitchell who organized the event together with Marjorie Orr.
The majority of the artworks are for sale:
Entry is by a gold coin donation to cover some of the costs associated with mounting the event, and most of the works on display are available for the public to purchase.