New Office and Gallery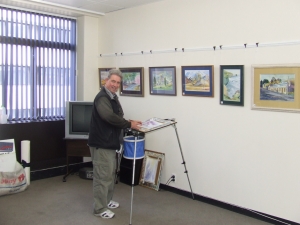 We can now welcome you to our new office and Gallery!
Julie and I are now resident in our new office and gallery and ready to receive visitors. You are inviited to pop in to see us on the Sixth Floor of Burns House at 10 George Street right in the heart of Dunedin. We are there from 9 to 5, and you can come for a coffee and to enjoy our great view overlooking the Main Street, the Octagon, the Town Hall, and the Civic Centre.
A spacious and comfortable space:
You will emerge from the lift and our front door is directly ahead of you. Enter and you are in our Boardroom and reception area currently displaying Celtic Art. To the right is a roomy gallery with an ever changing showing of paintings, mainly watercolours ar displayed at present, and this is where I am usually to be found painting.
Julie in a Sea of Pink:
If you go straight through the Boardroom you will enter Julie's office after passing a pair of mennequins, one dressed as a blind ref, and the other as a truffle. As you would expect, apart from the black furniture, you are greeted by a sea of pink, and Julie of course. She is available to speak at your functions and conferences, and she has proved a great hit as a keynote speaker. Call our new office phone number 477 2820 to arrange for her to speak at your next engagement.
Catalogue allows easy identification of works:
The Gallery is a big open area allowing for you as a visitor to view a variety of paintings in a pleasant and unhurried environment. I have produced a catalogue for you to identify paintings easily. Xmas is not far away now and a painting is such a unique, personal, and lasting gift.