Brooklands Retirement Village commissions Ron Esplin paintings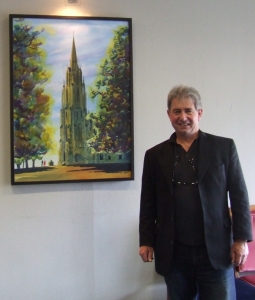 Two large canvases by Ron Esplin now hang in the foyer of Brooklands Retirement Village in Mosgiel. The Management at Brooklands represented by Shona Innes chose art subjects to enhance the refurbishment of the entrance to the complex.
Iconic Dunedin Scenes chosen:
Dunedin's First Presbyterian Church and a long view from the Octagon down Stuart Street were the scenes chosen, and because of the size of the area it necessitated a large format with each framed canvas over a metre in height.
Size demanded Acrylics on Canvas:
Watercolours were out of the question partly because of the size, but also that Ron felt the need to provide the impact of vivid colours and strong contrast in such a large open area.
This decision required a commitment of many hours, but Ron feels the investment of time paid off in the end result.
Elderly residents and Staff pleased with the result:
Ron was grateful to receive the positive comments of the elderly residents and staff once they saw the paintings hanging in the location.
Ron quipped that when it comes to his turn to become a resident it will be a familiar welcome for him when he arrives.