Southern Scenes exhibition Green Island Gallery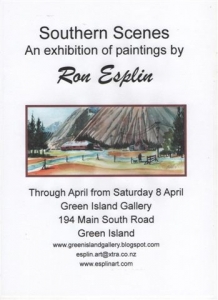 Ron Esplin exhibition at Green Island Gallery:
Ron Esplin's exhibition "Southern Scenes opens at 5.30 on Friday 8 April. The exhibition features works that have been produced over a number of years of aspects of the South Island of New Zealand.
"Southern Scenes" includes scenes of Dunedin, The Catlins and Canterbury:
Scenes include Dunedin views, such as "Otago Harbour Boat Shed", "Careys Bay" and "Dunedin Town Belt", The Catlins is represented in "Papatowai", and "Flock Hill Panorama" is one of the Canterbury scenes that are included.
Representative of the feel of the South:
Some scenes are recognizable landmarks such as "The Bridge At Ophir" and others are landscapes that represent the feel of the South, such as "Old Farm House".
New Works included:
Also included are new works, such as the vibrant "Autumn", and some abstract pieces such as "La Danse" and "Barock" are examples of works that were inspired by events and people in Otago.
Something for everyone:
There is something for everyone here, a contemplative artist in the figure study "Inspiration", or the study of a collection of pottery in "Pots" round off an eclectic collection of watercolours and acrylics by a Ron, a Southern artist.