Ron Esplin leads an Artists Island Retreat St Martins Island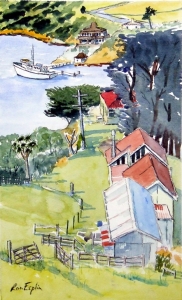 Superb Morning
(Check out the photos in the gallery)
At 10AM on a superb Saturday morning on the weekend of 8 May, twelve artists gathered at the Portobello aquarium half an hour from Dunedin in Otago Harbour. We were to meet the boat to transport our art gear, sleeping bags, overnight bags and ourselves across to Quarantine Island, otherwise known as St Martins Island.
Not without incident:
All baggage was trolleyed to the wharf down a narrow path at the waters edge. The inevitable happened, and a sleeping bag ended in the water to begin our incident packed two days.
Two giant launches moored at the wharf proved not to be our transport, as the putt putt of a tiny outboard on a tiny boat driven by the island caretaker, Graeme Furness, approached and sidled up to the wharf. Four trips backwards and forwards had us gathered at the homestead for a briefing, then we sorted out our sleeping arrangements.
On with the art works:
Without further ado we all went on a familiarisation walk around the island and within an hour artists were scattered around various vantage points painting the spectacular harbour views. By late afternoon it started to get cold and artists straggled in to gather for a drink around the blazing space heater that Graham had lit.
A good old fashioned sing song:
A pot luck dinner was followed by a good old fashioned sing song when we discovered that our two guitars and lusty voices were joined by Graeme's two guitars and he and his partner combined their musical abilities.
The Sunday morning dawned calm, still, and fresh. Rachel, still in her pyjamas and barefoot took her cup of tea and went for a stroll up the grassy paddock behind the homestead, and three of us followed with our coffees.
Another incident:
Separated briefly, we were alarmed to hear a shriek from Rachel's direction. She had slipped on the grass, and we were later to find she had broken her ankle, and sustained a spiral fracture of her fibula. What to do? Get a helicopter? Graeme took the initiative and phoned St John Ambulance. We made Rachel as comfortable as we could and half an hour later when the ambulance arrived, the two ambulance officers were transported out in the tiny boat, and after a precarious stretcher back to the wharf, Rachel was whisked off to Dunedin Hospital.
Show and tell of art works:
After that excitement we went back to our painting until we gathered for lunch and a "Show and Tell" before heading back to Dunedin.
We all agreed that this was an event to be repeated, and even Rachel who has been recuperating for two months, is keen to do it again. Indomitable!
QUARANTINE ISLAND
Kamau Taurua is the largest island in Otago Harbour, close to the city of Dunedin, New Zealand.
The island covers an area of 15 hectares, and is mainly a publicly accessible recreation reserve.
The island served as the quarantine station for Otago from 1863 until 1924. When ships arrived in Otago harbour with infectious diseases, the passengers were sent to Quarantine Island until they were well or died. There is a small cemetery on the island.
Only one of the quarantine buildings from these years is still standing, and this has currently begun to be restored. After the quarantine station closed the island was leased by St Martin Island Community, established in 1958, and the remainder jointly managed by the Department of Conservation and the Community.