More Ron Esplin Tactile Art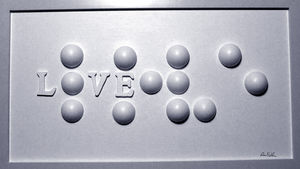 All you need is Love: (John Lennon)
Another tactile art piece featuring the braille word LOVE has been well received. After all it was love that sparked the concept in the first place.
Price NZ$1,200
More tactile art:
I have been expanding on the tactile art concept, moving from braille art, to humorous pieces that can be viewed by both the visually impaired and sighted art lovers.
Korugate:
The latest is called "Koru Gate", a play on words with the Maori symbol combined with the ubiquitous European gate. Approx size 750mm x 400mm. Price: NZ$1,150.