Invitation to "Beautiful Dunedin" art exhibition of work by Ron Esplin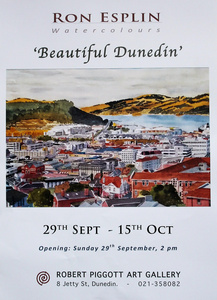 "Beautiful Dunedin" Ron Esplin Exhibition at The Robert Piggott Gallery 8 Jetty St Dunedin:
Beautiful Dunedin is an exhibition of sixteen watercolours and one acrylic by Artist Ron Esplin illustrating his love for the city in which we live. "It is my duty as an artist to point out the beauty that surrounds us. Mounting this exhibition with the help of Rob Piggott has been a pleasurable experience for me, and his peaceful gallery at 8 Jetty Street is a perfect environment for visitors to take some moments out of the daily hustle and bustle, and to contemplate these views of the city that we share with one another".
Come to the opening on Sunday 29 September:
The opening is from 2PM to 4PM on Sunday 29 September. The exhibition runs from Sunday to Tuesday the 15th of October. Opening hours are 10AM to 4PM on Saturdays and Sundays, and 12Noon to 2PM on Mondays and Tuesdays.
LINK:
Invitation to "Beautiful Duned ... hibition of work by Ron Esplin
.